Blog
<![string:backto]>
2012 Harris Customer Training Conference Follow Up
November 19, 2012
First of all, we'd like to say a big THANK YOU to all who attended the
2012 Harris Customer Training Conference
in
Nashville
. The conference is only a success because of you, our valued customers!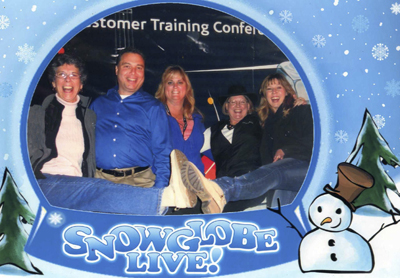 (*Pictured: Janice – Durango; Al – EBRPSS; Julie – Durango; Joy – Staff; Crystal – Durango)
Requesting Feedback
We'd greatly appreciate it if you could take just a few moments of your time to provide your feedback via the appropriate link below. The conference committee takes your input seriously as we are always looking for ways to improve, in order to provide you with the best conference experience possible.
Harris ERP customers (GEMS, CAFR, Innoprise): Please provide your feedback on the 2012 Harris conference experience via http://www.surveymonkey.com/s/HUC12ERP.
Download Presentations
You can download available conference presentations on eSupport; simply follow the instructions below:
Harris ERP customers:
Go to Downloads, Documentation
Select Harris ERP as the "Division"
Select 2012 Harris Customer Training Conference as the "Family"
Select 2012 Conf. Presentations as the "Category"
Save the Date!
We hope you enjoyed your Harris conference experience so much that you will plan to join us in 2013 at the Gaylord Palms in Orlando, FL from October 28-November 1.
If you have pictures from the conference you would like to share, please email them to Farrell Clancy.
Categories