Blog
<![string:backto]>
CAFR Unlimited WebEx Trainings Now Available on eSupport
January 13, 2013
Every CAFR Unlimited customer is entitled to view our free, pre-recorded WebEx trainings which provide an overview of the CAFR Unlimited report writer and will help prepare new users for further training.
The 7 sessions are now available for download on eSupport. Please note that you must first download the player in the nbr2player.zip file (labeled "CAFR Unlimited Player") in order to view these recordings.
Instructions for Downloading
Log in to eSupport.
Go to Downloads, Documentation.
Select Harris ERP as the "Division."
Select CAFR Unlimited as the "Family."
Select WebEx Trainings as the "Category."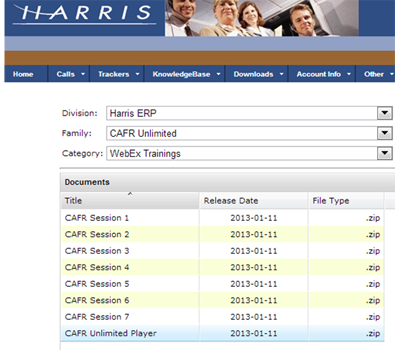 Questions? Comments?
Contact Blake Robertson or Valerie Loyd.
Categories