Blog
<![string:backto]>
Great Lakes Regional User Group Meeting Wrap Up
April 30, 2013
Six entities were represented at the meeting and four entities attended the evening event, "An evening at the REDS." We had a great time together at the REDS game and the Big Red Machine had a spectacular win!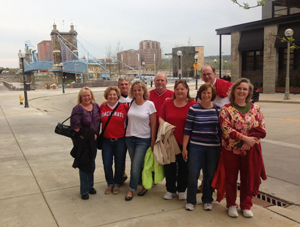 Pictured left to right:  Debbie Vanone, City of Mentor; Donna Parker; Dave Parker; Jill Lehner, City of Mentor, Charles Anderson, Wayne County; Michele Hunkler, West Chester Township (Host); Randy Bartels, City of Lima; Bonnie Lingafelter, City of Mentor; and Julie Flake, West Chester Township (Host)
The meeting was just as spectacular with Randy Bartels of Lima leading a session on sharing knowledge of how everyone uses QuickReports. Other good sessions that brought about knowledge sharing was the Fixed Assets session and the EOM and Crystal Reporting sessions. Everyone truly appreciated Debbie Vanone, of the City of Mentor, sharing her knowledge of the
CAFR Unlimited reporting tool
, as she is considering retirement later this year. We all wished her well, but will truly miss her if she decides to go.
Their next meeting will be later this fall, watch the
GEMS Gazette
for updates!
Categories