Blog
<![string:backto]>
2013 Conference Follow Up
November 8, 2013
We want to sincerely thank all of our 2013 conference attendees for making the trip to Orlando – without your participation, we could not have made this conference as successful as it was.
It was a pleasure seeing familiar faces as well as new; thanks for investing the time with us. We're already looking forward to 2014 in San Diego and hope you'll join us; but in the meantime, some follow-up items:

We'd Love Your Feedback!
Thank you to all who have already filled out session or overall evaluations; your feedback is vital to making next year a success. We are constantly looking for ways to improve, to learn what works and what didn't, in order to provide all of you with the best user conference experience possible. Please take a few moments to complete our conference surveys at the links below:
Conference Presentations
Conference presentations are available on
eSupport
; to access:
Select Downloads, Documentation.
Choose Harris ERP as the "Division."
Select 2013 Harris Customer Training Conference as the "Family."
Select 2013 Conf. Presentations as the "Category."
Facebook Photo Contest Winners
We had a lot of fun with the
Facebook photo contest
at the 2013 Harris Customer Training Conference – just
check out our wall
to see all of the activity!
Wednesday night's costume contest was a blast and
St. Peters, MO
customer Dave Baker was Harris ERP's finalist. He didn't win overall against the other Business Units nominees, but did get a box of gourmet chocolates and more importantly had fun! Our Facebook Photo contest winner that day was Chris Shinneman from the
City of Liberty, MO
; she received a $25 Disney gift card.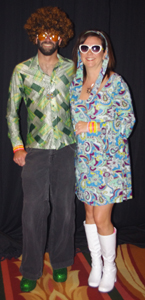 The Harris ERP staff transformed themselves into Duck Dynasty.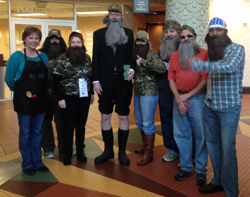 On Thursday, the Gaylord Palms staff had a pumpkin carving contest and one group even dedicated its design to Harris!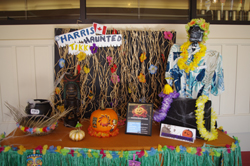 Thursday night's Hawaiian luau was a great time and included two bands, traditional luau food, dancers and more! Thursday's winner was Daniela Rivas from the
City of Winfield, KS
; she received a $25 gift card to the Palms' Wreckers sports bar.
On Friday, it was Barb McRae from the
City of Billings, MT
who was our lucky $25 Disney gift card winner. We also announced the grand prize winner, randomly selected by a non-Harris ERP employee (to ensure fairness!), Ed Vandehey of the
City of Pacifica, CA
. Ed is now the proud owner of a Sony attachable lens. Already he's used it and says, "The camera is pretty cool! I can't wait to use it at the next baseball game I attend. Crystal clear images." He also had this to say about our ERP Support team:
"Dennis, I wanted to let you know that the City of Pacifica absolutely loves the high quality of service that we've always received from Blake and Laura; they are 'gems'!"
Thanks Ed!
For a slide show of 2013 conference photos, please click
here
.
Special thanks again to our diamond sponsors, FileNexus, InvoiceCloud, Online Utility Exchange, and Summation360.
Categories