Blog
<![string:backto]>
Harris ERP Adopts a Family in Need
November 18, 2013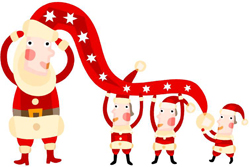 Since 2001, Harris ERP has "adopted" a needy family for the holidays, and this year is no exception. We work with United Way's 100 Neediest Cases to bring holiday joy to a family that desperately needs it. For 2013, 100 Neediest Cases/United Way has more than 13,000 families of high priority that have been submitted from various social agencies. Of the 27,450 individuals who will benefit from this season's campaign, nearly half are children.
Harris ERP employees provide monetary donations which are matched by our parent company, Harris Computer Systems. Over the past 12 years, we have donated literally thousands of dollars to needy families. Many of them are families with single mothers; some with severe medical or other debilitating issues who struggle to provide for their children. Many of these children do not even have winter coats, warm bedding, hats, or shoes. Harris ERP employees volunteer their time to shop, wrap and deliver gifts to the social agency or family, and the internal rewards we receive by playing "Santa's helpers" last long past the holiday season.
Our 2013 "Adopt a Family" consists of a single mother with two children, ages 9 (boy) and 13 (girl). The mom is currently out of work but is actively looking and struggling to make ends meet. Already the donations are coming in and "shopping elves" have volunteered! We are proud to work with people who give back, and for a company that does the same.
Does your organization participate in any charitable programs during the holiday season, or any other time of year? Tell us and you could be featured on our blog!
Categories