Blog
<![string:backto]>
Harris ERP raises more than $
1,000
for a family in need
December 16, 2013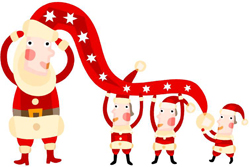 Harris ERP employees raised more than $ 500 in donations for our 2013 family in need. With the Harris corporate match, our total came to over $ 1,000 which meant that each shopper was able to spend nearly $ 350per person for our family of three. Necessities such as hats, gloves, coats, cleaning products, toiletries, sheets, towels and a bus pass were purchased for the household. The kids (ages 9 and 13) also got lots of fun items like clothes, makeup, and jewelry (for the teenage daughter); a football, soccer ball and Legos for the young boy.
Many, many thanks to all who donated, shopped and wrapped; Harris ERP is full of little elves willing to spread some holiday cheer!
A message from the family's social worker:
Good Afternoon,
I just wanted to share my wonderful experience with you! I delivered ALL the Christmas gifts to "your" family this past Saturday morning. Mom was so very excited! Repeated several times to me that the children would not have had a Christmas if not for Harris ERP! Ms. B was looking at all the gifts and when she realized that she had gifts.....oh my gosh! I do not think I can explain to you how much you have done for this family! All I can say is THANK YOU VERY MUCH! There are three people that will have smiles on their faces on Christmas Day! The very best to all of you!
Categories