Blog
<![string:backto]>
Client Services Boot Camp
May 6, 2014
The week of April 21st, Client Services and Support team members met in the St. Louis office for their annual "boot camp." Working over three half days and led by Donna Parker and Dave Cole, the team shared best practices and learned new and better ways to serve our customers. Evening team building events included a tour of the Missouri History Museum and a cooking competition at a local upscale grocery chain.
Day one objectives included learning and sharing best practice ideas to handle support research on our various software products. We also had opportunity to learn from Michael Price, one of our R & D gurus. He presented an overview of the Innoprise Centralized Cash Receipts application and techniques to research support issues within that application.
Our Tuesday evening event is one that we'd all recommend to anyone curious about the St. Louis area! We enjoyed a guided tour of the Missouri History Museum's 250 in 250, celebrating 250 years of Missouri's tradition, history making people and events!
Day two was chalk full of sessions designed to incorporate how we can apply our Harris Core Values to our daily environment! We kicked off the day with a session on empowerment at the point of contact from our EVP, Dennis Asbury! Dennis' session was not only enlightening and encouraging but also provided us insight to our EVP and how much he believes that each of us matter in the success of Harris ERP! We wrapped up the morning with a session from Donna Parker on positive ways to earn a co-worker's respect and an excellent opportunity to hear from a guest speaker: Jeri Schultz, Director of Institute for Continuing Studies, Leadership & Professional Development at Maryville University, Greater St. Louis. Jeri was an exceptional speaker and presented us with new ways to consider and apply "Team Work" in our daily challenges.
Our Wednesday evening event was a team building exercise at the Dierbergs Cooking School. We divided into four teams. The four teams were responsible to prepare a food preparation workstation and to instruct all team members on how to prepare the food item for the station.  We prepared the following menu items: crab triangles, field greens with balsamic vinaigrette, Dijon chicken in puff pastry, garden risotto, lemon sesame broccoli and a light tiramisu for dessert.  The food preparation and cooking time was approximately 2 hours. After the food was prepared, we all enjoyed the meal that we as a team prepared.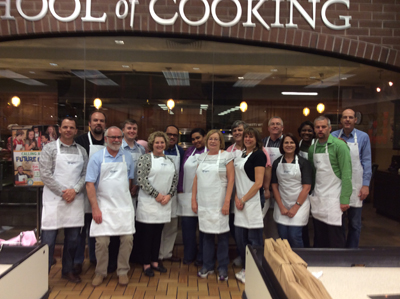 Day three was all about learning how to support you, our customers! Bryce Harward, our VP of R&D led sessions instructing us on the structure and design of our databases and how to research and query data. He will continue to provide ongoing training to the Client Services team in this area and more! This will help us be better at serving you!
Categories