Blog
<![string:backto]>
Harris ERP is Growing!
March 12, 2015
The Harris ERP family grew with the recent addition of the clients and staff of the iFIPS and DataNOW (Evolve) products.  iFIPS was transferred from the Harris Schools – Student Information Systems group to our group in January. DataNOW was transferred from the Harris inHANCE group to our group in February. These moves provide advantages to our iFIPS and DataNOW customers both now as we are focused on Enterprise Resource Planning solutions, and in the future when they are ready to migrate to our Innoprise product.
We are excited to welcome 46 new client sites and five staff members to Harris ERP.  We'll introduce you to a couple of the staff this time around, and will announce others in upcoming posts.
Dennis Cardiff 
Dennis Cardiff brings to us expertise on the iFIPS product, and has been involved in the administrative management of school systems and collaboratives for the last 13 years. He holds a degree in Business Administration and continued studies at Harvard University's Kennedy School of Government. His experience includes business consulting and management services to municipalities and school systems throughout New England. 

Dennis has developed several Implementation and facilities management proposals for the installation and management of data processing for municipal projects and combined municipal/school projects. He managed the Data Processing Division of the MASBO Cooperative Corporation for seven years prior to having founded Information Marketing Group (IMG), Inc in 1989.

Dennis has been a guest speaker and presenter at many public association annual conferences. He has also served in an elected position on the School Board and as Board of Selectmen of his hometown. He works remotely from his home in Massachusetts.

Wade Bond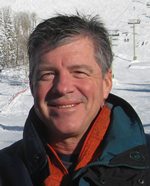 Wade Bond started working with Idaho Computer Service right out of college starting in 1982. Idaho Computer changed its name to DataNOW, then after joining Harris, the name was changed to Evolve. Wade is a programmer/analyst with experience in the following programming languages: COBOL, VB, VB.Net, ASP.Net and HTML. Wade's programming library includes Utility Billing, Special Assessments, Landfill Management, Cash Receipting and Session Commander. 

Wade graduated from Boise State University with a B.S. in Mathematics (at that time there was not a computer science degree; it was part of the math department). When away from work, Wade likes to spend time on the water, sailing, diving, paddling. When he's not playing on the water, he is remodeling houses or coaching volleyball.

Categories