Blog
<![string:backto]>
A Message from Our EVP
March 14, 2017
A month ago, the Harris Enterprise Resource Planning team – from locations across North America – gathered in Irvine, CA, for our annual all-hands "huddle." The annual huddle, always planned near one of our offices, aims to strengthen team relationships, celebrate successes, identify opportunities for improvement, set our focus for 2017, and have fun. Our team works very hard every day to be the best we can, and taking a day to recognize and celebrate that hard work is so important to us. I am especially pleased that we could hold this year's meeting in Irvine, to bring together our Harris ERP team and properly welcome our recently acquired Questys colleagues.

In the process of planning this year's event, a specific theme naturally emerged: Service. Put simply, service is helping others. In 2014, the Harris leadership team issued a community service challenge to all Harris businesses, a challenge that Harris ERP has embraced and participated in ever since. For 2017 we incorporated our community service challenge into our annual gathering. Approximately 40 employees, plus friends and family, volunteered at Second Harvest Food Bank in Orange County, CA, making it our largest yet community service effort in a single location.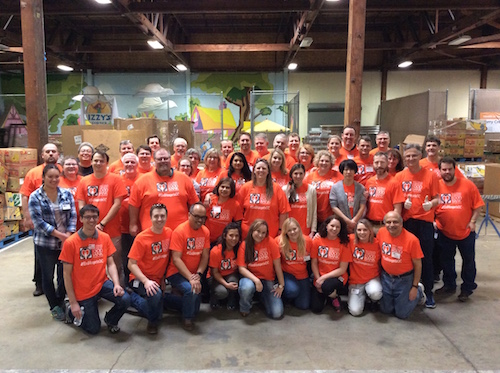 Similarly, in our partnership with you, we strive to provide you with great service – to help you – by way of our products, consulting, training, and support. In order to deliver on that goal our team must embrace the concept of service - whether an individual helps you directly, or helps those that help you. Our work in serving you is never done, and we aim to set the bar higher every day. While service is always important, I am pleased that our annual huddle and our goals for 2017 focus specifically on this.

I'd like to stress that our entire team, and especially myself and my leadership team, is here for you. If there is ever anything that we can do to better serve you, please do not hesitate to ask.

Sincerely,
Bryce Harward, Executive Vice President
Contact Bryce
303-226-0050 x75404

Meet the Rest of the Executive Team...
TAMMY DIMANNA - As the Vice President of Professional Services, Tammy directs the allocation of resources in relation to individual efforts, product delivery schedules, and budget for our Professional Services team. Contact Tammy

MICHAEL RICHARD - As the Vice President of Client Services, Michael leads our team of technical and application support specialists - the people that support you, our customer. Contact Michael

APARNA VATTIKONDA - As the Vice President of Research and Development of Harris ERP, Aparna is responsible for the technical design and development of the Innoprise applications as well as most of our legacy products. Contact Aparna

DAVID COLE - David Cole serves as the Senior Vice President of Questys. With a focus on customer service and innovation, Dave leads the Research & Development, Professional Services, Sales & Marketing, and Support teams of the business. Contact Dave
Categories